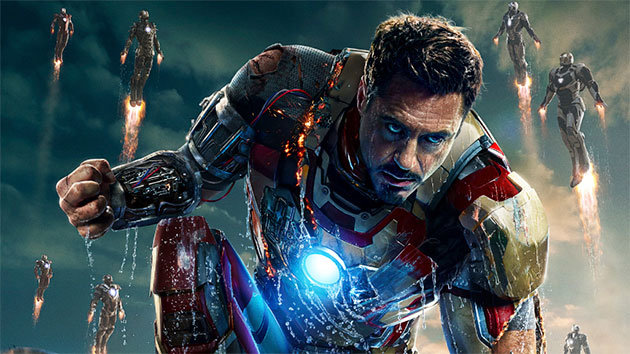 I quite enjoyed Iron Man 3, so I'm excited to share the news that Marvel has announced a home video release date for the film.
Let's just go straight to the press release:
This fall, the highest-grossing movie of the year, Marvel's "Iron Man 3," launches on HD Digital 3D and HD Digital September 3, 2013, and on 3-Disc 3D Blu-ray Super Set, 2-Disc Blu-ray Combo Pack with Digital Copy, 2-Disc Blu-ray Combo Pack, DVD, SD Digital and On-Demand platforms September 24, 2013, featuring top-flight bonus features, including the all-new "Marvel One-Shot: Agent Carter". Called "bold" (Reelz), "brilliant" (moviefanatic.com), and "the best 'Iron Man' yet" (Access Hollywood), this blockbuster third chapter in the Iron Man series pits the brash-but-brilliant industrialist Tony Stark/Iron Man against his ultimate enemy, The Mandarin, for the year's most spectacular action adventure!

Marvel's "Iron Man 3" has earned a record-breaking $1.2 billion dollars in theaters worldwide, making it the biggest hit in the Iron Man series and the fifth highest grossing feature film of all time. Now, viewers everywhere can experience the action-packed excitement on Blu-ray 3D, Blu-ray, DVD and Digital Copy, featuring "Marvel One-Shot: Agent Carter," the fourth entry in the fan-favorite "One-Shot" series. Starring Hayley Atwell as Peggy Carter of Marvel's "Captain America: The First Avenger," "Agent Carter" takes place after the events of "The First Avenger" and offers the latest exciting expansion of the Marvel Cinematic Universe.

Other bonus features include an exclusive behind-the-scenes look into Marvel's "Thor: The Dark World," which shows off the spectacular new worlds, unforgettable characters, and pulse-pounding thrills of the upcoming blockbuster movie, and two behind-the-scenes featurettes "Iron Man 3 Unmasked," in which the film's cast and crew offer a crash course in epic movie-making, Marvel-style, and "Deconstructing The Scene: Attack On Air Force One," which allows viewers to jump right into the excitement of creating one of the film's most memorable action sequences.

Additional extras include a Gag Reel, Deleted & Extended Scenes, and Audio Commentary with Screenwriter Drew Pearce & Screeenwriter/Director Shane Black.
Hopefully we'll have a review of the BluRay disc right here on MovieVine around the release date.