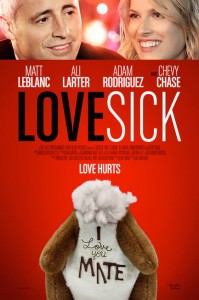 Lovesick
Definition: adjective love.sick (luv'sik')
1. Unable to act normally as a result of being in love
2. Pining or languishing because of love
We take for granted sometimes what some people struggle with on a daily basis, falling in love. Here we have Charlie Darby who has everything going for him, but the simple task of falling in love literally drives him insane. Charlie (Matt LeBlanc) decides to give up on love because he has had relationship after failed relationships with women that in his mind, did him wrong. Of course he meets a beautiful woman that he feels is perfect for him named Molly (Ali Larter) and this is where the chaos and the antics begin. The story is narrated by Charlie's best friend Jason (Adam Rodriguez) who tries to be Charlie's voice of reason after he realizes Charlie really is insane!
This is a great feel good movie! I laughed throughout it, because we all know someone who has acted like this, if not ourselves. Valentine's Day is around the corner and everyone should consider taking their sweetie or that crazy friend that is Lovesick to see this movie.
Not once did I think of Matt LeBlanc as Joey. Good job Matt! The movie has a cast of characters that include Chevy Chase, Kristen Johnston, Rachael Harris, Rebecca Naomi Jones and Carsen Warner that will have you laughing out loud. By the way, this is not the same movie that was released in 1983 with the same name.
Lovesick is directed by Luke Matheny (Academy Award winner for short film God of Love; IFC's "Maron" Amazon's "Gortimer Gibbon's Life on Normal Street"). Written by Dean Young and produced by Travus Pope, Josh Goldstein and Michael Roiff, LOVESICK opened in select theaters nationwide and on all VOD platforms on Friday, February 6th from Gravitas Ventures. Head over to iTunes to pre-order the film HERE: http://bit.ly/17PYn0c
Currently you can also catch LOVESICK in the following cities:
New York, NY: http://bit.ly/1lklRyh
Los Angeles, CA: http://bit.ly/1g2rKPK
Atlanta, GA: http://bit.ly/Ghjvjh
Chicago, IL: http://bit.ly/1xy9YFT
Dallas, TX: http://bit.ly/1nOzVP9
Denver, CO: http://bit.ly/15VTbXN
Detroit, MI: http://bit.ly/1z4ZgfF
Houston, TX: http://bit.ly/1Dbr4hB
Orlando, FL: http://bit.ly/1zem7E1
Phoenix, AZ: http://bit.ly/1hl8JV5