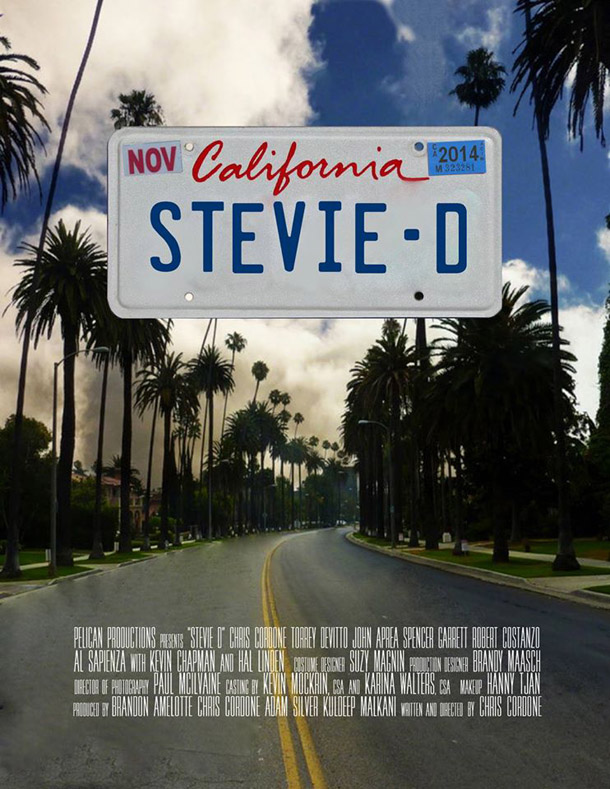 Los Angeles, CA. – Pelican Productions announced that principal photography will start this week on "Stevie D," directed by first-time helmer Chris Cordone. The film is shooting in Los Angeles and stars Cordone ("Castle," "Ray Donovan"), Kevin Chapman ("Person of Interest," "The Brotherhood"), Torrey DeVitto ("Pretty Little Liars," "Vampire Diaries"), Spencer Garrett ("House of Cards"), Al Sapienza ("Millon Dollar Arm"), John Aprea ("The Godfather II," "Idolmaker") and Hal Linden ("Barney Miller").
The screenplay, also written by Cordone, is a humorous crime drama about a Los Angeles construction magnate whose only son has accidentally killed a connected man. A sinister plan is hatched that sends the son into hiding while an unsuccessful actor is hired to fill his shoes and unknowingly take the hit. Cordone explains, "The movie is, at its heart, a father and son story about two people who are not related." Acknowledging that there are some parallels between the actor in the story and himself, Cordone admits the project mainly came together out of his desire to work. An actor who began his career in film school, Cordone had always hoped his career would lead him toward producing and developing his own projects. When the opportunities did not arise, he decided to create one himself.
Produced by Brandon Amelotte under his Pelican Productions moniker, the film is co-produced by Cordone, Adam Silver and Kuldeep Malkani. Paul McIlvaine is the Director of Photography; Kevin Mockrin and Karina Walters are the casting directors.
Watch for news updates on their official Facebook page here.