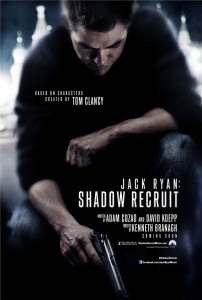 Coinciding with the death of Tom Clancy on October 1, 2013, the first teaser poster for the Kenneth Branagh directed, Tom Clancy based film has been released, featuring Chris Pine as Jack Ryan. Formerly a United States Marine, Jack Ryan is a man of great skills, that finds himself entangled with the CIA.
In a story said to be conceived initially by Hossein Amini, Jack Ryan: Shadow Recruit is an original story and not based on any of the previous Tom Clancy novels, or films and is due for release on December 25, 2013. The film has been previously titled Jack Ryan and Jack Ryan: Shadow One, until receiving its official title, today.
The film features a talented cast that includes Chris Pine as Jack Ryan (Star Trek, Star Trek Into Darkness), director Kenneth Branagh as Viktor Cherevin (My Week with Marilyn, Henry V), Keira Knightley as Cathy Ryan (Pirates of the Caribbean series, Pride and Prejudice), Kevin Costner as William Harper (Dances with Wolves, JFK), with David Paymer and Santino Fontana in various supporting roles.
This is hardly the debut of the Jack Ryan character in film, as the character is in his fourth portrayal, having been portrayed by other great actors, such as Alec Baldwin in The Hunt for Red October, Harrison Ford in Patriot Games and Clear and Present Danger and Ben Affleck in The Sum of All Fears.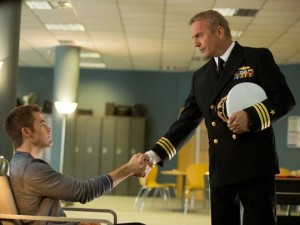 Before his tragic passing, Tom Clancy became a name of legend. An author that wrote many novels, mainly focusing on the Jack Ryan character, with films and video games also bearing his name. A legacy that will likely live on in upcoming releases, including this planned Jack Ryan franchise.
The fate of upcoming novel Command Authority, has yet to be revealed and many upcoming video games are still due for release. According to an image caption on Yahoo! Movies, the trailer is due for release on October 3, 2013 at 7:30 P.M. Eastern Time/4:30 P.M. Pacific Time.
Be sure to learn more about Jack Ryan: Shadow Recruit, at the official Facebook page and website.