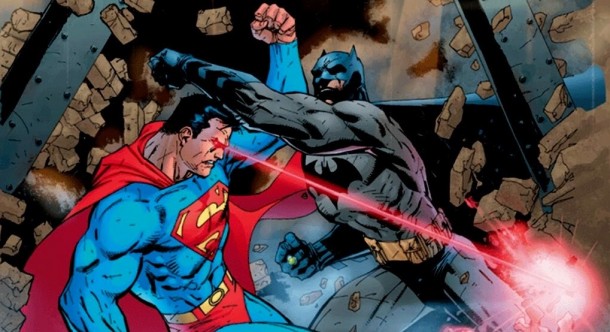 The San Diego Comic Con is happening right now, and the event has become a mecca for comic book nerds and genre fans looking to hear the latest about Marvel and DC movies. Marvel hit the ground running with previews of Captain America: The Winter Soldier and Thor: The Dark World, but DC has arguably the biggest news story coming out of the Con: in lieu of a straight Man of Steel sequel, the WB and DC are canceling their plans for a Justice League movie and giving the fans what they want. And what they want is a Batman vs Superman movie. Zack Snyder, the director of Man of Steel, is slated to direct the duo's first cinematic encounter, which is set for a 2015 release date.
"I'm so excited to begin working again with Henry Cavill in the world we created, and I can't wait to expand the DC Universe in this next chapter," Snyder said in a statement. "Let's face it, it's beyond mythological to have Superman and our new Batman facing off, since they are the greatest Superheroes in the world."
To be honest, this is really great news. Instead of following Marvel's lead and doing a bunch of stand alone movies leading up to Justice League, WB is just setting their own path for the DC universe. The flick is scheduled to being production soon, so we'll be hearing about the new Batman very soon. I'm kinda hoping Armie Hammer gets a shot at the cowl, myself. And I really, really hope they end up titling the film "World's Finest."
We'll keep you updated as this story develops.