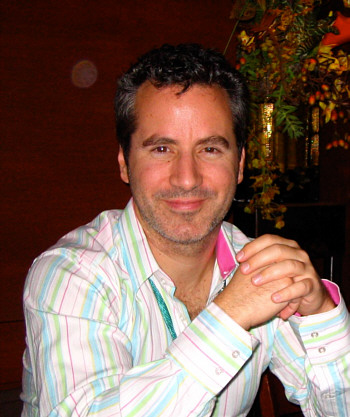 Nicholas Tabarrok is a producer who has been working on a film named The Fix, which stars Kurt Russell, Matt Dillon, Jay Baruchel, Chris Diamantopoulos, Katheryn Winnick, Terence Stamp, and Kenneth Welsh. The Fix is about a motorcycle daredevil and former art thief who assembles his old crew, including his untrustworthy brother, for one last heist. Learn more about Nicholas by reading the interview below..

Kale: What first brought your attention to film?
Nicholas: Well, Jonathan and I have known each other for over ten years, and we were in prep on our last film together, A BEGINNER'S GUIDE TO ENDINGS, and we already started talking about what we wanted to work on together next and he gave me the script.  At the time it was titled THE GOSPEL ACCORDING TO ROSCOE and I immediately fell in love with it.  I think this was summer 2010.
Kale: What aspects of film have given you the most joy?
Nicholas: I love working with creative people.  I love working with writers, developing stories, digging into the script, helping them make it better.  I love prep with directors, agreeing on locations, cast, set design etc and then sitting in the edit suite, then listening to various music choices, the mix etc.,   all parts of the creative process I enjoy.   What I enjoy less – what's more of a necessary evil to me for making films – is the tremendous amount of paperwork, banking, legals contracts, accounting that needs to be done.
Kale: What is the best thing about walking onto a set?
Nicholas: Seeing something that started out as words on a paper brought to life and knowing that I played some part of making that possible.
Kale: What kind of films do you prefer to produce?
Nicholas: Smart films.  Films that don't follow a formula, that aren't simply knock offs and re-dos of what we've seen a thousand times before.  I'm drawn to fresh stories, unique characters, new situations.  I really love indie films, as both an audience member and filmmaker.
Kale: What can you tell me about The Fix?
Nicholas: The FIX is a very smart, very twisty con arts film in the vein of USUAL SUSPECTS or THE STING.  The writing is great and the cast we managed to pull together, Kurt Russell, Matt Dillon, Jay Baruchel, Terence Stamp, Chris Diamantopoulos, Jason Jones, and Kenneth Welsh were all incredible.  It's a very fun film.
Kale: What was the experience like on the set of the film?
Nicholas: Very positive, very fun.  Kurt, as the most senior experienced guy on set, really set the tone and he's a fun loving, easy going guy with no attitude, no bullshit.  Everyone took their cue from him.  It was a collaborative and fun set.
Kale:  What do you take away after a film wraps up?
Nicholas: You learn so much on every film.   There is just so much work that goes into a film, and no film every comes about the same way twice, so it's always a learning experience, you always break new ground, explore new territory.
Kale: How much of yourself do you put into your work as a producer?
Nicholas: 100%.  It's a hackneyed cliché I know, but it's true.  You HAVE to.  There is no such thing as producing a film casually, or part time or half-assed.  It just won't get done.  It takes up 14 hours a day, 6.5 days a week.  If you're not giving it 100% of your attention and effort at best it will get made poorly and at worst – and more likely – won't be made at all.
Kale: What is your favorite aspect of the production process?
Nicholas: I love developing material.  Taking "raw" scripts and working with writers and directors to mine the very best story out of it.  I love nothing more than sitting with 2 or 3 people, pouring over a script, sometimes page by page, sharing what we think and how we can make the very most of it, raise it the highest level it can be.
Kale: When can we expect The Fix to hit release?
Nicholas: Nothing locked in stone yet, but I believe it will be coming out early summer of this year (2013).
Thank you Nicholas!