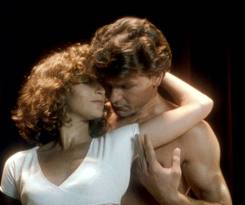 Dirty Dancing is right up there with My Big Fat Greek Wedding, Grease and The Notebook on the list of films that are popular that I have utterly no understanding of. Lionsgate is interested in rebooting the property that spawned a TV series, a hit song, and a mediocre sequel along with complete and utter ravenous fandom by a large percentage of the fairer sex.
Deadline has tapped Kenny Ortega, the director of the High School Musical films (and, much more entertainingly, the Christian Bale musical Newsies) to helm the remake of the Patrick Swayze dance flick. Ortega has a bit of a history with the franchise, having choreographed the first film and directing a few episodes of the TV series (I'm not lying, there was a legitimate Dirty Dancing TV series).
The original Dirty Dancing cost a mere $6 million to produce and wound up raking in $213 million worldwide in 1987 dollars. Adjusted for inflation, that's just north of $400 million today. That's more then X-Men First Class, Captain America, and Bridesmaids have made. Clearly, Baby could put more than one "blockbuster" in a corner.