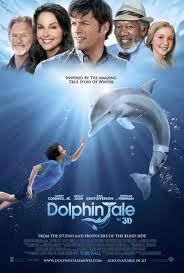 When I saw the trailer for this movie I thought this would be a great movie for families to see.  It's based on a true story about a dolphin named Winter who was only three months old when she was caught in a crab trap.  She loses her tail when she was trying set herself free from the trap.  A young boy finds her on the beach. She is then rushed to a Marine Hospital where a group of dedicated marine biologists help her to recover from her injuries and give her a prosthetic tail. The real Winter plays herself in the movie and she is a symbol of courage and hope to millions.
The release date is September 23, 2011 in 3D or 2D.
Starring: Morgan Freeman, Ashley Judd, and Harry Connick Jr.
By Michelle Hassenstab