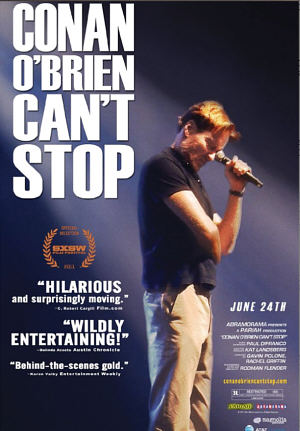 "I might be a fucking genius, or I might be the biggest dick ever. I don't know."
I can't imagine there's a person alive who doesn't know about the kerfuffle between Conan O'Brien, Jay Leno, NBC, and the 2009 battle for the right to host The Tonight Show*.  The documentary Conan O'Brien Can't Stop doesn't cover any of that, but rather the fall out once Leno got the gig and O'Brien got the boot.
Part character study, part concert film, Can't Stop follows the "Legally Prohibited From Appearing on Television Tour," a journey across the country where O'Brien performs jokes, gags, and songs while soothing his bruised ego. Actually, calling his ego "bruised" might be an understatement. With a bushy beard and paler than usual skin, O'Brien looks as though he's on the verge of suicide for a good chunk of the film. The comedian who has spent nearly twenty years on television entertaining America, has been cut off; and like an alcoholic forced into sobriety, it doesn't take well.
O'Brien is broken, but sometimes the best comedy comes from those who have nothing to lose. O'Brien is daring with his comedy while on the stage and on the road, often making harsh jabs that could cut deep if they weren't delivered by such a forlorn creature.  "There's fuel there, because I am angry," O'Brien claims. "I don't think I was entitled to The Tonight Show, but sometimes I'm so mad I can't breathe."
The short film mixes clips from O'Brien's tour shows with him interacting backstage with writers, assistants, and the occasional guest. The 90 minutes fly by quickly, but the peek into O'Brien's psyche sticks with you. Fortunately the ending is happy, with O'Brien getting his groove back and cementing his status as a folk hero for the down trodden. He interacts with fans and when he hits a bit that really takes off, you can feel a bit of his soul flick back into place, and by film's end he isn't quite back to normal, but he's close.
For fans of O'Brien (and I count myself as one of them) this is an interesting look at the way the man carries himself and how he treats his work. Unlike Leno, who treats his comedy as just a job, O'Brien treats it like food, and an audience's reaction is just as important to him as a fully balance breakfast is. The Tonight Show was once his goal, but that has been replaced by living up to his fans and admirers and making them laugh. The Tonight Show made Johnny Carson an institution. Losing The Tonight Show has made O'Brien one as well.
Conan O'Brien Can't Stop is available on DVD and Netflix Instant
*If for some reason you don't know, or are curious to hear all the juicy details, Bill Carter's The War For Late Night is a book well worth your time.