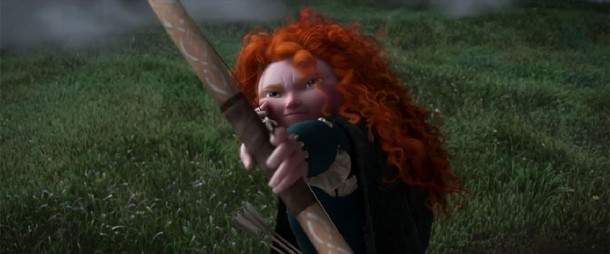 I liked Brave a lot, and I'll get a chance to share more of my thoughts when we get closer to the film's BluRay release date, which Disney just slated for November 13th, 2012.
From the press release:
Disney•Pixar proudly announces the Blu-Ray hi-def debut of "Brave," the year's #1 animated movie and Pixar Animation Studio's 13th consecutive hit, on November 13, 2012. A breathtaking adventure that has entertained audiences of all ages, the stunning Blu-ray release of "Brave" includes hours of all-new bonus material, extraordinary behind the scenes features, extended and deleted scenes, a mysterious and exciting, new short film, 'The Legend of Mor'du," and much more.

An original and thrilling journey set in the ancient and magical Highlands of Scotland, "Brave" follows the heroic journey of the headstrong, young adventurer Merida. Determined to carve her own path in life, Merida confronts tradition and defies an age-old custom that inadvertently unleashes chaos, and forces her to discover the true meaning of bravery. The 5-Disc Ultimate Collector's Edition (1 Blu-ray 3D + 2 Blu-ray Discs + 1 DVD + 1 Digital Copy) has something for everyone – from the home entertainment enthusiast who demands the highest quality, state-of-the-art technology offerings, to the family who enjoys the interactive and engaging bonus features that only Blu-ray can provide – making this unique and beautiful film a "must add" to any home media collection.
Brave hits store shelves on November 13th. You can pre-order a copy right here.