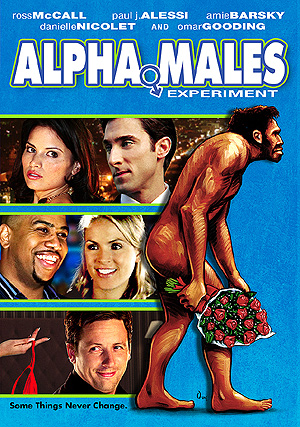 Alpha Males Experiement (aka Knuckle Draggers) is the perfect film to watch with a group of people. The ensemble cast presents a range of characters where a connection can be made with one or more of the situations presented. The story is a relationship roller coaster ride with funny highs and dramatic lows.
The opening credits begin with a series of neat caveman drawings with music that set the tone of the story. You'll feel like a voyeur peeking into each character's scenario. Starting with Kyle (Paul J Alessi) who is able to take control of a bar scene injustice that many guys wish they could do in real life. Next is the view of Kyle's brother, Ethan (Ross McCall), who has problems with his fiancé and ends up being dumped. As Ethan struggles to find out what he can do to get back together with his ex-fiancé, his brother Kyle solicits advice to help him get over her and move forward with a chance at a better relationship with someone new. Things don't work as planned and Ethan's friend, Patricia (Amie Barsky) submits advice of her own, which conflicts with Kyle's guidance causing friction between them. A telling scene of this can be found when the three of them are at Ethan's home getting him ready for a date and there is a showdown with a comparison of films representing the views of men and women.
Just as the saying, "It takes a village to raise a child" pertains to parenting; people may need help with relationship problems from many people: family and friends. This is the case with this film, where different characters of the ensemble cast are in different stages from being single, married, or divorced. No matter what stage, there are problems that pop up, and the main key ingredients that seem to help solve issues, are communication and confidence.
I watched this movie with a group of family members that ranged in age and everyone simply loved it… each mentioned different funny things that stuck out as memorable scenes. This is a film geared towards guys and girls alike who can determine for themselves whether we have evolved from caveman times.
An awesome cast made this movie happen, and you can feel the chemistry between them that makes this story work. I've seen some of the excellent film work by Ross McCall, Paul J. Alessi, and Amie Barsky in the past. I haven't seen the other cast (Omar Gooding, Justin Baldoni, Danielle Nicolet, Brandon Olive, Serah D'Laine, or Jennifer Alden) before this, but I loved the job they did making their characters believable and I'll watch for their future projects. I'm also looking forward to more films by the Alpha Male Experiment writer, director Alex Ranarivelo.
Alpha Males Movie (aka Knuckle Draggers) is being released on February 12, 2013. It can be pre-ordered at iTunes, Amazon and more.. plus added to your Netflix queue: http://www.alphamalesmovie.com/