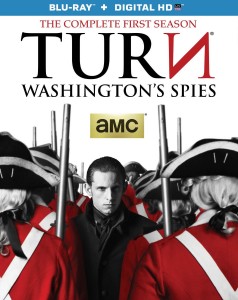 With Season 2 set to premiere this spring, the complete first season of TURN: Washington's Spies will arrive on DVD and Blu-ray on March 17, 2015. The series based during the Revolutionary War follows General George Washington (played by Ian Kahn) and the ring of spies that he helped craft known as the Culper Ring. The first season told the origin story of the Culper Ring, following Abraham Woodhull (Jamie Bell) as he worked with Major Benjamin Tallmadge (Seth Numrich), Lieutenant Caleb Brewster (Daniel Henshall) and Anna Strong (Heather Lind) against British forces.
The remaining cast of the first season included Meegan Warner as Mary Woodhull, Kevin R. McNally as Judge Richard Woodhull, Burn Gorman as Major Richard Hewlett, Angus Macfadyen as Major Robert Rogers, Samuel Roukin as Captain John Graves Simcoe and JJ Feild as Major John André
The second season has already wrapped on filming and is said to feature more scenes with General George Washington, as well as the addition of Owain Yeoman as Benedict Arnold and Ksenia Solo as Peggy Shippen.
You can learn more about TURN: Washington's Spies on the official site, Facebook and Twitter.