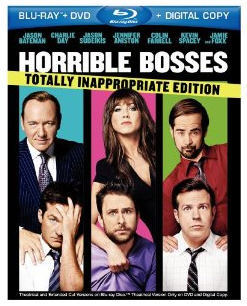 If you think that you have a horrible boss, you should see the bosses in Horrible Bosses.  In this comedy movie, three friends make a decision to kill each other's bosses because they are making their lives miserable, but then their plan takes an unexpected turn. It's a funny and a must see movie. I did my first article for Movie Vine on Jennifer Aniston from this movie.  "Horrible Bosses" is now on DVD and Blu-ray.  You can also get the Horrible Bosses (Blu-ray/DVD Combo + UltraViolet Digital Copy)
"Horrible Bosses/Totally inappropriate" on Amazon.com.
Horrible Bosses stars: Kevin Spacey, Jason Batman, Colin Farrell, Jason Sudeikis, Jennifer Aniston, Charlie Day.
By Michelle Hassenstab