We've shown you the Finding Nemo 3D trailers earlier this year, and we've mentioned Disney's plans to finally bring the beloved Pixar classic to BluRay for the first time. Now we can give you all the official details, including a street date and a list of the various versions Disney is putting out.
Here's the info from Disney's press release:
Disney•Pixar's "Finding Nemo" dives back into theaters and homes this year in breathtaking Digital 3D™. The must-"sea," must-own Oscar®-winning underwater adventure—featuring the unforgettable Marlin, his forgetful friend Dory and the lovable young Nemo—returns to the big screen in a spectacular 3D theatrical release beginning September 14, 2012, and then swims into living rooms for the first time ever in high-definition Blu-ray, Blu-ray 3D and Digital platforms on December 4, 2012.

"'Finding Nemo' was originally shot in 3D," said John Lasseter, chief creative officer for Walt Disney and Pixar Animation Studios and the film's executive producer. "At last, with today's technological advances, this spectacular underwater world can be seen as it was intended—showcasing its eye-popping detail and breathtaking colors to both theatrical and in-home audiences and creating atruly immersive experience."

"Finding Nemo," first released in theaters in 2003, earned the Oscar® for Best Animated Feature Film and remains the fifth highest grossing animated film worldwide. In 2008, the American Film Institute named "Finding Nemo" among the top 10 greatest animated films ever made, and it is the second highest grossing Pixar film to date (behind "Toy Story 3").

The Blu-ray 2D and 3D debuts mark the first time "Finding Nemo" has ever been available in these hi-def formats. Featuring pristine high definition picture and sound, the Blu-ray creates an incredible at-home experience with a host of interactive features and bonus features including 3D Virtual Aquariums, 2D Virtual Aquariums, CineExplorer, a Filmmaker Roundtable and more.
The home entertainment release of "Finding Nemo" will be available this holiday season as follows:
A 5-Disc Blu-ray 3D Ultimate Collector's Edition….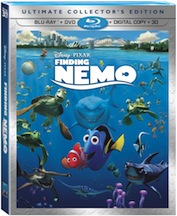 …as well as a 3-Disc Blu-ray/DVD Combo Pack, for those without 3D televisions.