The 85th annual Oscar telecast is this Sunday night, and I'll be live blogging the program here on MovieVine and posting updates during commercial breaks. If you want minute by minute updates I'll be live tweeting the show as well. Last year I posted predictions a few days before the awards and tallied my accuracy during the show. The result was an 85% accuracy rate, but I'm not sure I'll be nearly as accurate this year. Last year there was a clear favorite in The Artist but this year the race is still wide open. I'm fairly confident in most of these predictions, but I wouldn't be shocked to see a much lower success rate for me this year. Of course, that "anything could happen" feeling is what makes the Oscars exciting, and this could be the most exciting awards show in years.
On to the predictions!!
Best Picture
Argo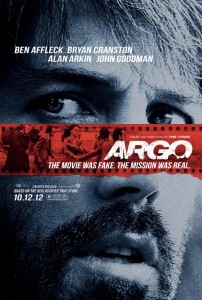 Amour
Beasts of the Southern Wild
Django Unchained
Les Misérables
Life of Pi
Lincoln
Silver Linings Playbook
Zero Dark Thirty 
BET ON: After months of being the presumed victor, Lincoln has been seemingly passed over for Argo, which I'm pretty sure will emerge the victor on Sunday night. It's a historic win, the first in nearly thirty years where the Best Picture winner won't have a corresponding Best Director nomination. The Academy loves to make history, and I'm betting that love will tip the scales in Argo's favor.
Best Director                                   
Ang Lee, Life of Pi

Benh Zeitlin, Beasts of the Southern Wild
David O. Russell, Silver Linings Playbook
Michael Haneke, Amour
Steven Spielberg, Lincoln
BET ON: Since Ben Aflleck isn't nominated for Argo, this race should be Spielberg's to lose. And honestly, I think he will lose. I'm putting my money on Ang Lee here. There's a lot of love for Life of Pi in the Academy, and the Academy also really likes to kick Spielberg in the shins. Now that Lincoln is slipping from favor I think there'll be a surge of love for Pi, and Lee will cash in on that surge.
Best Actor
Bradley Cooper, Silver Linings Playbook

Daniel Day-Lewis, Lincoln
Denzel Washington, Flight
Hugh Jackman, Les Misérables
Joaquin Phoenix, The Master
BET ON: Daniel Day-Lewis. He's the first of two sure things in this awards show. He's been scooping up prizes all season, and this is where Lincoln can't be dislodged.
Best Actress
Emmanuelle Riva, Amour

Jennifer Lawrence, Silver Linings Playbook
Jessica Chastain, Zero Dark Thirty
Naomi Watts, The Impossible
Quvenzhané Wallis, Beasts of the Southern Wild

BET ON: The predictable choice here is Jennifer Lawrence for Silver Linings Playbook, and I won't be surprised if she takes home the gold. But I'm placing my money on an upset here, and the upset will be Emmanuelle Riva for Amour. She's got a lot of friends in the Academy, and she's the oldest actress in Oscar history to be nominated. The Academy might lean towards her to make history again, also contemplating the fact that Lawrence has already been nominated once before and will most likely be nominated again in the future. The time for Riva is now.
Best Supporting Actor
Alan Arkin, Argo

Christoph Waltz, Django Unchained
Phillip Seymour Hoffman, The Master
Robert De Niro, Silver Linings Playbook
Tommy Lee Jones, Lincoln
BET ON: This might be the trickiest category to call. All of the nominees are former winners, and there isn't a weak contender in the running at all. I'm going to bet on Robert De Niro, a beloved talent that makes a comeback of sorts in Silver Linings Playbook. That comeback might trump everyone else.
Best Supporting Actress
Amy Adams, The Master

Anne Hathaway, Les Miserables
Helen Hunt, The Sessions
Jacki Weaver, Silver Linings Playbook
Sally Field, Lincoln
BET ON: This is the second sure thing. Anne Hathaway blew everyone away in Les Miserables, so much so that some claim she's the best part of the movie. That praise has kept her afloat all season long, and it'll snag her the Oscar on Sunday.
Best Animated Feature
Brave
Frankenweenie
ParaNorman
The Pirates! Band of Misfits
Wreck-It Ralph
BET ON: For the first time ever, the Best Animated Feature category has an exciting race as opposed to an obvious frontrunner. Brave, Frankenweenie, and Wreck-It Ralph have all got solid followings in the Academy, and right now it's a tough category to call. Personally I think Wreck-It Ralph might be a bit too video game centric for the mostly older Academy, so it's more of a race between Brave and Frankenweenie.  Brave has Pixar behind it, but Frankenweenie has Tim Burton, an auteur yet to be recognized by the Academy. I'm leaning toward Frankenweenie, but don't be shocked to see Brave sneak in there.
Best Original Screenplay
Amour, Michael Haneke
Django Unchained, Quentin Tarantino
Flight, John Gatins
Moonrise Kingdom, Wes Anderson and Roman Coppola
Zero Dark Thirty, Mark Boal
BET ON: As it stands, the only real contenders here are Haneke and Tarantino. Tarantino's won before though, and while they might be keen to award him again I feel like the Academy is even more keen to award Michael Haneke for Amour. Judging by the love the Academy has shown for Amour and the subject matter that rings close to home with a lot of the Academy members, I'm betting on Amour to win.
Best Adapted Screenplay
Argo, Chris Terrio
Beasts of the Southern Wild, Lucy Alibar and Benh Zeitlin
Life of Pi, David Magee
Lincoln, Tony Kushner
Silver Linings Playbook, David O. Russell
BET ON: This is the tipping point. When this award is handed out early in the night we'll probably know which film will win Best Picture. If Tony Kushner wins for Lincoln, we'll still have a bit of a race between that and Argo. If Chris Terrio wins for Argo, than the game is over. I'm going to bet that Kushner wins out as the last gasp for Lincoln supporters.
Best Foreign-Language Film
A Royal Affair (Denmark)
Amour (Austria)
No (Chile)
War Witch (Canada)
Kontiki (Norway)
BET ON: Amour. It won't win Best Picture, but it'll certainly win this one.
Best Original Score
Anna Karenina, Dario Marianelli
Argo, Alexandre Desplat
Life of Pi, Mychael Danna
Lincoln, John Williams
Skyfall, Thomas Newman
BET ON: This is the most irritating category this year, mainly due to their omissions. No Cloud Atlas? No Beasts of the Southern Wild? Their absences are insane, and the actual contenders are barely memorable. I can't think of any music from any of these films save for Skyfall, and that's only because most Bond scores are the same. I'm leaning toward Life of Pi because it's the most exotic, but John Williams could collect again for Lincoln. Who knows. I'm picking Life of Pi, but this is the category I'm least sure of.
Best Original Song
"Before My Time" from Chasing Ice
"Everybody Needs a Best Friend" from Ted
"Pi's Lullaby" from Life of Pi
"Skyfall" from Skyfall
"Suddenly" from Les Misérables 
BET ON: The Academy can't turn down Adele. Skyfall is the best Bond song to come along in years, and everybody knows it. None of these other tunes come close.
Best Production Design
Anna Karenina
The Hobbit: An Unexpected Journey
Les Misérables
Life of Pi
Lincoln
BET ON: The production design for all these films is top notch, but Anna Karenina is the flashiest and easiest to point to. When it doubt, got with the loudest, and Anna is anything but quiet.
Best Cinematography
Anna Karenina, Seamus McGarvey
Django Unchained, Robert Richardson
Life of Pi, Claudio Miranda
Lincoln, Janusz Kaminski
Skyfall, Roger Deakins
BET ON: It's between Skyfall and Life of Pi, and I'm going to lean towards Life of Pi. The film is visually stunning, and while Skyfall has celebrated cinematographer Roger Deakins on the ballot, he's never won. It adds to the legend if he never does, and the Academy might be ok with that.
Best Costume Design
Anna Karenina, Jacqueline Durran
Les Misérables, Paco Delgado
Lincoln, Joanna Johnston
Mirror Mirror, Eiko Ishioka
Snow White and the Huntsman, Colleen Atwood
BET ON: When it comes to Best Costume design, it's usually wisest to go with something period and classy. So the Snow White films are out, and Anna Karenina is the flashiest of the remaining contenders. Les Mis might be an upset here, but I doubt it.
Best Documentary
5 Broken Cameras
The Gatekeepers
How to Survive a Plague
The Invisible War
Searching for a Sugar Man
BET ON: Ironically the front runner here is the only one I've actually seen, and that's Waiting For Sugar Man. It's a pleasant, middle of the road doc that I'm not surprised has a huge following. Incendiary docs don't do well when there's a crowd pleasing one, so expect Sugar Man to win big.
Best Film Editing
Argo
Life of Pi
Lincoln
Silver Linings Playbook
Zero Dark Thirty
BET ON: This is a tricky one, but I'm going to lean toward Argo here. The editing is key to what makes that movie work as well as it does, and I'm counting on the Academy seeing that. They might throw Zero Dark Thirty a bone here, but I doubt it.
Best Makeup & Hairstyling
Hitchcock
The Hobbit: An Unexpected Journey
Les Misérables
BET ON: Hitchcock is dead in the water, and The Hobbit is barely doggy paddling. Les Miserables will take this but all in all this is the least interesting category of the night.
Best Sound Editing
Argo
Django Unchained
Life of Pi
Skyfall
Zero Dark Thirty
BET ON: I'll put this up front: I'm terrible at predicting sound awards. They're always a mixed bag and there's never an obvious front runner. Usually when there's an action movie in the mix I lean toward that one, so I'll bet on Skyfall here.
Best Sound Mixing
Argo
Les Misérables
Life of Pi
Lincoln
Skyfall
BET ON: The only difference between this sound category and the last one is the addition of Les Miserables, which I'm putting my money on. Les Mis made the bold choice of recording their music live on set, and that boldness will pay off handsomely here.
Best Visual Effects
The Hobbit: An Unexpected Journey
Life of Pi
The Avengers
Prometheus
Snow White and the Huntsman
BET ON: All these films have great things going for them, but Life of Pi has enough juice with the Academy that it'll probably emerge the victor. I'm basing this prediction on how Hugo beat out other blockbuster contenders last year and pulled an upset. Hugo and Pi have similar fan bases and nearly the exact same nominations as Pi, so why can't it pull the same upset?
And there we have it. I'm abstaining from making any predictions about the short films so you're on your own for those, folks. Good luck with all your bets, and I hope you'll join me here on Sunday night for the live blog.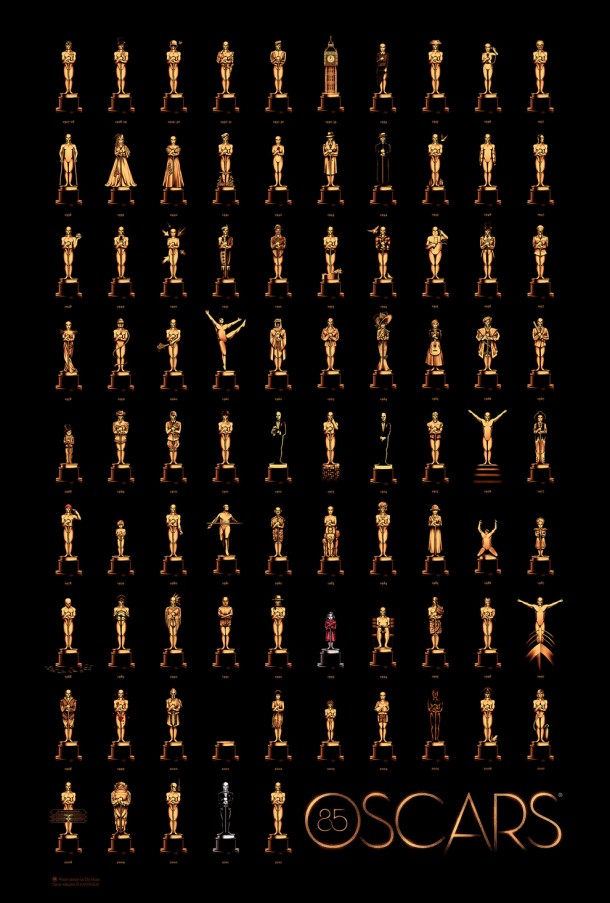 The Academy Awards will be hosted by Seth MacFarlane and televised on Sunday, February 24th at 8pm on ABC.