From the Inside….Looking Out!
By Kimber Leigh -Special to the Glendale Daily Planet
Still posters on display in the theatre lobby – one from each top 20 film. Photo by Kimber Leigh
As Jae Staats, Director of the Almost Famous Film Festival, puts together last minute touches the night before the screening, he reveals the Top 20 films will premier in the largest auditorium at AMC Arizona Center 24 Theaters.
In anticipation of a full house, our team arrives early to grab the best seats. As we are entering the theatre, the big silver screen is showing clips from various team leaders from the night of the drop-off. They are re-telling their 48 hour experiences and adventures during their filming challenge.
Being one of those team leaders who entered this year's challenge, I would love to share the many variables that can take place during those precious few 48 hours.
I have been a team leader and entrant since 2006 and as a result, I have experienced many 'ups and downs.' We have been in the coveted Top 20 and we have won a few awards. We have also been in the bottom 20 and had our films screened and of course made the Honorable Mentions section of the A3F. I can say that being in that "Top 20 Award Winning Category" is the greatest feeling of all!
What our team would like to share is that we have done it all ways and there is no 'secret formula.' We have started writing and putting the ideas on paper on the first night of the challenge and we have done four months of pre-production and rehearsing, however, you can never prepare for the last minute obstacles that can derail any film challenge project.
You may encounter casting issues, i.e. last minute cancellations, inexperienced cast or crew, equipment malfunctions, encoding problems, overall fatigue or any other unforeseen issues that will possibly bring an end to that dream of conquering the 48 hour deadline. If any of these problems occur, keep filming and keep going until the clock ticks to the last possible minute. You may end up with a film that is greater than what you intended if you keep on going. You may even end up making a film longer than the suggested time requirement (which I have also experienced), that may end up being a gift in disguise. You can always go back after the challenge is over and re-edit, re-think and re-shoot to make it the movie YOU want it to be.
With all of this knowledge, if you are lucky to have a smooth shoot and turn your film in on-time, there are other small accomplishments that take place inside the 'larger picture.' It is called the, 'Roller Coaster Ride.' It is the week long process of waiting for the judges decision of the 'Top Twenty' and 'Honorable Mentions' or the sad realization that your film will not be seen before an audience all.
Once these obstacles are all overcome and you know where your team places, you have the pleasure of sharing this news with family and friends and peers in the business and get your tickets for the big show. The A3F gives each team 2 complimentary tickets which no other festival does…then it is off to game day.
If you do make the Top 20, you still have another long twist and turn to take. That happens once inside of the theatre. Will you film show well? Will you place in the Top 5? Will you place in the Top 3? Or will you win the Audience Choice?
Inside the theatre more than half in attendance were first time spectators of this festival, which was amazing to see. Once the films started screening, the entertainment value improved with each film. We watched everything from 'Silent Films' to 'Cartoons.' Based on the quality of the films that I watched at this festival, the entertainment value was the best I had seen in all my prior years being in the audience.
This 8th Annual Screening had a Fairytale ending for one particular team, 'N Ragged Pictures' and their film "READY AN ACTION." They won, 'Best Director,' 'Best Outstanding Performance by an Actor' (first time performance, aged 10) 'Brock H. Brown Script Award' and 'Audience Choice.' This team had entered many years in the past but had never took home first place. But they did not give up and eventually took home the GOLD. They are to be recognized for their tenac
ity and their ability to create a film that will be remembered by all who attended that night.
In attendance that night was, Jay Lee, who won first place for the A3F one-shot challenge in 2010. He did not enter this year due to scheduling issues but I asked him what brought him to the festival, his response was this, "The A3F is a great venue for filmmakers to work their craft and also have an ability to showcase their work before a large audience."
Many successful filmmakers get their start with the A3F… after tonight's showing, Lee said, "expect more great local films."
As the evening ended and all were headed to the 'Official After Party' at, 11:30 The Restaurant, I thought about my own journey with the A3F and what came to mind was this, I witnessed the A3F grow up from its adolescents and into adulthood that entertains the masses with wonderful films for all ages, overnight! I am proud to have grown up also in this film family. We may not always make the 'Top Twenty', but we have the opportunity to grow as an writers, actors, producers and directors because this venue exists.
Below are some 'Fun Facts' about the A3F Almost Famous Film Festival. They have done just that for our state, made Arizona…… ALMOST FAMOUS!
Fun Facts about this years A3F Challenge
-66 teams entered
-49 teams turned in on time
-Best Actor went to a first time actor age 11 – Watch this movie HERE
-Teams from Phoenix, Tucson, Flagstaff, Maricopa, Nevada and So California entered
-Received News/write-ups in the AZ Republic, Phoenix New Times, ASU Downtown Devil, Phoenix Channel 11
-A3F is the largest film challenge in the Southwest and one of the largest in the country
-Over 1000 films have been made for the A3F during the past 8 years
-For this challenge alone, there were over 500 filmmakers and crew making films in one weekend
-Filmmakers use this a a launch pad to success in the film industry or living out their dream!
-Sold out event this year
Kimber Leigh – Actress, Producer, Director Since 2006 A3F Almost Famous Film Festival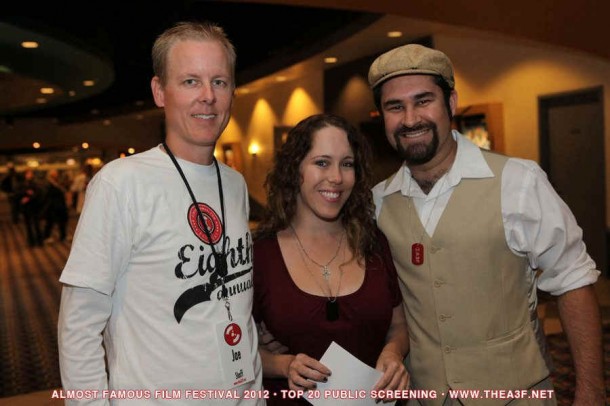 Jae Staats – A3F Film Festival, Jolene Houser and Dana Skvarek who is with is with Depleting Shadow Entertainment.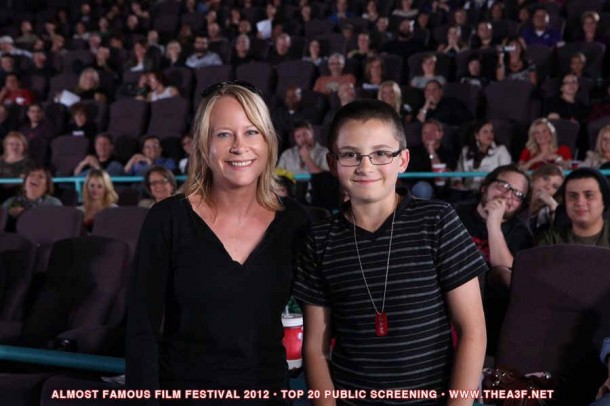 Susan Brigham from Verve Studios and Wyatt Dufresne a talented 11 year old who won the Actor Award for his performance in "Ready an Action!"
This was Wayatt's first movie he appeared in that went into competition. Note the full theatre in the background! – Watch this movie HERE
Congrats to N'Raged Pictures for their overall winning film!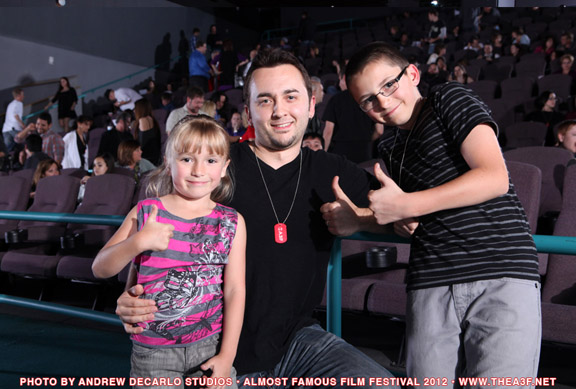 Gracie Dufresne, Adolpho Navarro – director N'Raged Pictures and Wyatt Dufresne – Winning film "Ready an Action!"
Recap, results and Top 20 films here!
See The A3F Festival Site at – http://www.thea3f.net